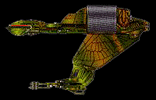 This Klingon Starship class is used by the Klingon defense force, they are all equipped with cloaking device.
They are capable of both atmospheric entry and landing, as well as warp-speed interstellar travel.
Serveral types are created like the smaller one D-12 and B'rel class scouts, as the larger K'Vort class cruisers.